Want to destroy boredom and thrill your audience?
James helps event and meeting planners create productive, impactful and educational events that aren't dry and boring. His clean comedy and amazing magic will engage your audience, get them involved in the show and leave them clamoring for more of his special brand of corporate entertainment.

"Very entertaining, spontaneous, and personal. He was very appropriate for the event and quite frankly, refreshing! We look forward to inviting him back again, and would highly recommend him for any event!"
-William Burton, President – 1st Source Bank

Contact James to check availability today!
Check availability and get a customized proposal, fast and easy with no obligation. Your event and the entertainment of your guests is our priority. From booking through to event completion we are with you every step of the way providing support and advice free of charge.
Not just corporate entertainment, but your easy-to-work-with partner
It's not enough to find good event entertainment—you want someone easy to work with. Between managing your guests, coordinating the schedule, and putting out fires, the last thing you want to worry about is the entertainer. James' experience in the corporate world has taught him the importance of professionalism, courtesy and flexibility, so you know he'll return calls quickly, show up early and minimize technical requirements. Check availability and get a quote!
James' performance…
is clean, fun and designed for corporate audiences
engages your guests with comedy and audience participation
is focused on the success of your event, not the applause he gets
"James was very professional. He asked names of key people and got them involved in the show. Funny and very entertaining. We highly recommend him. Great job James…see you next year!"
-Janice Sivels, LDR Industries

It's all about making your event a success!
Whether it's strolling magic during the cocktail hour, an after dinner show, or a combination of the two, James' job is to make you look good by insuring your event's intentions are fulfilled and your guests have an unforgettable time.
Comedy Magic Stage Show
Designed for corporate audiences, James' amazing magic has elements of theater, improv & stand up comedy. His show is focused on clean entertainment & engagement, can be adapted to any venue, and is guaranteed to be the hit of your event!
"Everyone absolutely loved your show. Even our Chairman made a comment to the President. We talked about having you next year! I have a feeling that 1st Source will definitely use you again." -Nancy Jones, 1stSource Bank
Ideal for: awards dinners, holiday parties, client events, and opening or closing sessions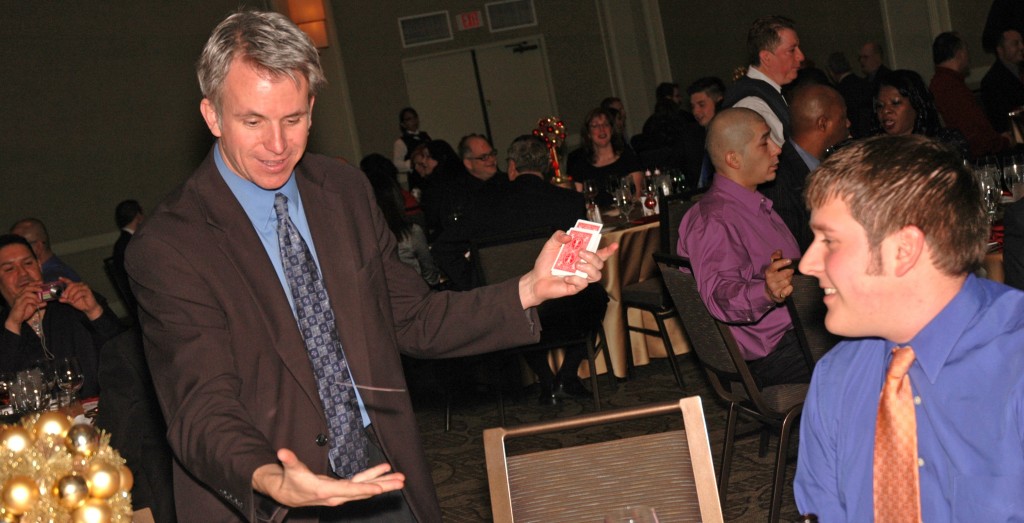 Interactive Closeup Magic
When you want to engage and entertain, but a stage show would be too much, James' close up magic will amaze, break the ice with strangers and start conversations. It's low maintenance, high impact entertainment at its best.
"Your act was the perfect touch for our cocktail hour. You were professional, "low-maintenance," and exceptionally courteous from beginning to end." -Julie Kanak, Hands of Peace
Ideal for: receptions, hospitality suites, fund raisers and client or staff appreciation events
Customized Programs
When your event requires outcomes, messages or take aways, you can rely on James to incorporate your language into his show, guaranteeing a memorable, fun and effective presentation.
"He was incredible in teaching people what our company was through his magic. And not only did he get that message across, he's a fabulous magician. Awesome job." -Kim Marie Branch-Pettid CEO of Letip International
Ideal for: trade shows, sales meetings, and product launches
To determine availability and get a no-obligation quote, contact James today!