I hate cheesy, overdramatic magic. And I think you do too.
Designed for College Audiences
Filled with mind blowing magic & hysterical comedy, college magician James' fast paced college magic show is designed for the college market. Whether it's classic magic with a modern twist or an effect no one anywhere else is doing, you're guaranteed James will entertain, amaze and leave students wanting more. Click on the right for a student testimonial!
Guaranteed Entertainment
Combining magic with his patented blend of audience participation and interaction means no two college magic shows are alike. With experience in both stand up comedy as well as improv, James isn't just ready for anything, he's looking forward to it.
Extensive Professional Experience
With clients like Yahoo, Subaru, Macy's, Aon and others, as well as multiple appearances on television, you know James can amaze, entertain and bring down the house. His show packs small but plays big, meaning you can entertain an auditorium of college students at virtually any college event with minimal tech and almost no production costs. Click on the right to hear from a student that hired James!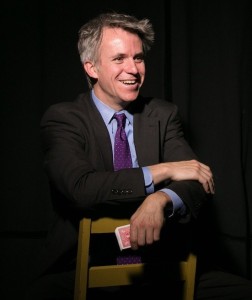 Contact James today (and learn how magic can get you free beer!)