Entertainment your guests will love!
Whether you're hosting a private or corporate event, you want reliable, quality entertainment you can be confident will wow your audience, young or old, AND be easy to work with.
Whether close up or onstage, James will leave your guests laughing and astonished, charmed by his personality, while you'll be worry free, able to enjoy your own event (or handle any other emergencies that may come up!)
Rave reviews on Yelp don't lie!
How Magic Makes You Money
Imagine attendees stopping in their tracks in front of your booth. Then, by incorporating YOUR ideas in his script, James gets your message across without the audience realizing it! He even includes qualifying questions in his script so that your salespeople know EXACTLY who to talk to.
Guaranteed Results
Trade show booth entertainment isn't just about putting on a good show. In the business world content is king, which is why James' customized performances integrate his background in communication, education, business analysis and marketing to insure your message is crystal clear, effectively communicated and extremely memorable.
Your Content Will Be Remembered
Your booth is expected to be productive, impactful and educational, while not being dry and boring. James makes this difficult task easy. By capturing your attendee's attention with his high energy comedy, engaging their mind with his astounding magic and incorporating your message in the performance, you're guaranteed an effective, memorable and entertaining product presentation everyone will love.
Contact James for a no-cost proposal today!
PAGE ENDS HERE
Imagine your living room filled with kids howling with laughter, gasping in astonishment and clamoring to be onstage! These are the trademarks of the James Sanden Comedy Magic Show.
Honed in front of thousands of children and adults, you can be certain the show will entertain, amaze and make the birthday child the star of the show!
Rave reviews on Yelp don't lie!
Hear why parents LOVE the show!
You can relax while your child has the time of their life!
More than entertainment, James also provides you peace of mind. By showing up early, staying late, and checking in the week before, James leaves you free to focus on what's important, the birthday child!
This is James' full time job, and he treats it as such. He knows that customer service and satisfaction are what keeps him in business!
"The parents enjoyed the show as much as the kids! Great entertainment & I'd happily recommend you!" -Sarah Z.
How James makes your child's birthday the best one EVER!
James' show is all about making your child feel special on their big day. Imagine the excitement they'll feel when a bottle cap impossibly appears inside a root beer bottle, their name magically appears on a playing card and a giant, 6 foot tall balloon animal is created, ALL of which your child gets to keep as magical souvenirs to remind them of their special day!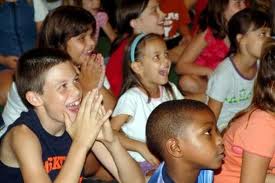 Huge Laughs!
James knows what kids find funny, without resorting to potty humor. Silliness, fun and situation comedy combine to fill the show with non-stop entertainment that both the kids AND adults will enjoy!
"The parents and the children absolutely loved the show. I received so many compliments on how fun his show was and how he was able to keep the smaller children's attention was amazing!" -Athena M.
The Kids ARE the Show!
While the magic is amazing, the show is really about audience participation and interaction. Whether they're on stage, or participating from their seats, the kids are the heart of the show, start to finish!
"James was great with the kids and really made the entire audience crack up with laughter. I would definitely recommend James to anyone in search of a magician!" -Christina P.
Your Child is the Star!
James' show begins and ends with your child as the star of the show. You'll love watching their eyes light up as they make coins disappear in their own hands and their name magically appears on a playing card!
"You were a big hit among our guests (of all ages). People loved your engaging personality and amazing tricks. I was especially impressed by the magic customized for the birthday girl!" -Nariman T.
Dates fill fast, so contact James today!